KEB' MO' WRAPS 2014 WITH 3 GRAMMY NOMINATIONS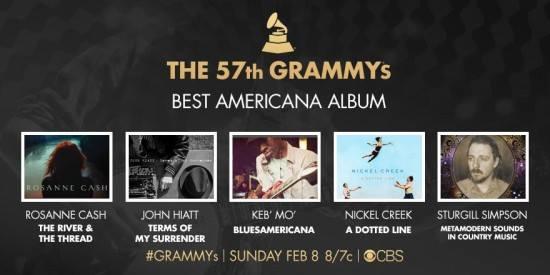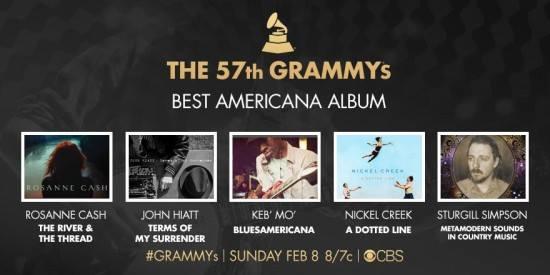 (Nashville, Tenn. – Dec. 8, 2014) – Three-time Grammy award-winning singer, songwriter, guitarist and modern day blues and americana artist, Keb' Mo' has had a lot to celebrate this year. Most recently, it's the three 2015 Grammy nominations he's garnered and his 12th studio album,BLUESAmericana, being named one of the Top 100 Americana Albums of 2014 (at #19).
As announced on Friday (12/5), Keb' Mo' was nominated for three Grammy Awards in the categories of Best Americana Album (BLUESAmericana),Best American Roots Performance ("The Old Me Better," Keb' Mo'/Kind Of Blue Music), and Best Engineered Album Non-Classical(BLUESAmericana, Keb' Mo'/Kind Of Blue Music).
The nominations trail his recent honor of being awarded his 5th BMI award for the theme song he wrote and performs on the CBS smash sit-com, Mike & Molly.
Following it's initial release through Kind of Blue Music on April 22,BLUESAmericana remained in the Top 5 on the Soundscan Blues Album chart for 5 months, with 6 weeks in the #1 position, making it one of the top-selling blues albums of 2014.
Through positive reviews, many critics have made it evident that they agree,BLUESAmericana is something special. Earlier this year, Rolling Stone reviewed the album and said, "While he has made a living being all over the place—singing, acting, writing, playing—his music has never lost its core, authentic focus. Which is why "more of the same" isn't always a bad thing."
The year, which marked Keb' Mo's 20th career anniversary, delivered the modern master of American roots music several national TV spots, including the Late Late Show with Craig Ferguson, CBS This Morning and GAC Playlist, which is scheduled to air Dec. 11 at Noon CT and Dec. 12 at 3:00 p.m. CT.
In May, Keb' appeared alongside Metallica at MusiCares' 10th Annual MAP Fund Benefit Concert at Nokia honoring Ozzy Osbourne and Jeff Greenberg. In October, he joined an impressive lineup of stars that gathered to honor the Everly Brothers, Phil and Don, at the Rock and Roll Hall of Fame's 19th annual Music Masters® Series, and in November, he joined all-star acts, including Bonnie Raitt, Gregg Allman, Taj Mahal, Grace Potter, and many others, at Chicago's Auditorium Theatre for Mavis 75, a celebration of Staples' life and career in honor of her 75th birthday. This year, Keb' also guest appeared or collaborated on songs with Kenny Wayne Sheppard, Mindy Abair, Greg Allman and was featured on the Jackson Browne tribute album,Looking Into You: A Tribute to Jackson Browne.
In addition, he appeared as one of the featured artists in Keith Richards' video to raise awareness for the
charity Playing for Change, performing a cover of Bob Marley's "Get Up, Stand Up." Watch the video here. Keb' is very involved with the Playing For Change movement, which was created to inspire, connect and bring peace to the world through music. He has been involved with Playing With Change since it's inception and has been featured in many related videos and events. Keb' performs on the Playing For Change album: Playing for Change 3: Songs Around the World, which was released June 17, and features over 180 musicians from 31 countries, including Keith Richards, Sara Bareilles, David Hidalgo, Cesar Rosas, Taj Mahal and many others. Keb' Mo' donates 5% of BLUESAmericana sales proceeds to the foundation.
Recorded in Nashville, and produced by Keb' Mo' and Casey Wasner,BLUESAmericana features ten tracks, nine of which were co-written by Keb', and has been described as having a mix of personal, raw honesty blended with folksy, upbeat roots rock-type material that is distinctly Keb' Mo'.
This holiday season, Keb' Mo' released two tracks to radio, titled "Shopping On Christmas Eve" and "We Call It Christmas." Both songs are from Keb' Mo's holiday EP, The Spirit of Holiday, which is available on iTunes and other major digital retailers.
For a full list of tour dates and more information, please visithttp://www.kebmo.com/. Follow him on Twitter, Facebook and Instagram.